As a CEO of a time tracking software company, I need to know what my competitors are up to. That means I'm often researching about and/or playing around with their products, you know, it's part of the job. I also know which of our competitors are highly-regarded in the industry as people talk, word gets around. Here, I share some findings of my research or conversations, giving credit to those competitors where credit is due. I hope it helps you make the right decision…
Overview
I'm just going to say it: if you're not using Extensions yet, you're not really using Google Chrome to its full potential. 
Extensions are designed to add extra functionality and features to your browser, helping personalize and improve the overall Chrome experience. And there are thousands of them in the Chrome Web Store. They cover a wide range of functions and purposes, including productivity, security, web development, and, of course, time tracking.
With time tracking extensions, you'll no longer have to switch between several tabs or applications to keep track of your time. You can track time wherever you are on your browser. This seamless integration not only boosts productivity but also streamlines your workflow.
However, not all time tracking extensions are created equal. When choosing a time tracking extension, it's always best to examine its features, privacy policies, and what other users have to say about it. You also need to consider your time tracking needs and preferences.
To help narrow down your search, I've scoured the Chrome store, tested countless time tracking extensions, and compiled some of the best options that will help make your time tracking experience so much easier. And the best part is: they're absolutely FREE!
The definitive list
1. Jibble
There's a lot to love about the Jibble timer Chrome extension.
For one thing, it's extremely easy to use. Start tracking time with the click of a button or using handy keyboard shortcuts—no need to switch between tabs. You can even clock in using the extension and clock out via your mobile app. For added convenience, you can also integrate the the app with tools like Asana, Notion, and Airtable. Jibble is designed to blend into your workflow, not the other way around.
Transitioning between projects or tasks also becomes a breeze with Jibble. It presents you with a clear list of available activities and projects, ensuring you can track your time accurately, no matter how dynamic your workday may be. Plus, the option to set automatic clock-out reminders adds an extra layer of control and ensures you never lose track of time.
All your time entries are automatically synced across all platforms, making it accessible on the extension and on any device. And unlike other extensions which bog down your system with excessive resource consumption, Jibble is designed to be a lightweight app allowing faster loading times.
Now, all these features are definitely great but what truly sets Jibble apart is the people behind the product. Our product team takes pride in continuously updating and improving Jibble to deliver the best possible experience to our users. They have worked for years on this, with not even a single developer leaving the team. And it's safe to say all that hard work has culminated in a time tracking tool that isn't just functional but exceptional.
The numerous positive reviews Jibble has received on various review platforms are a testament to our team's commitment to excellence. So don't just take my word for it. Take it from the users who have experienced the transformative power of Jibble.
What Users Like
User-friendly interface

Automatic data syncing across all platforms

Clock in/out reminders

Free for unlimited users
What Users Don't Like
May be a little too easy to use
Key Features
Real-time data syncing

Easily accessible time entries

Keyboard shortcuts

Multiple integrations

Automatic clock in/out notifications
Ratings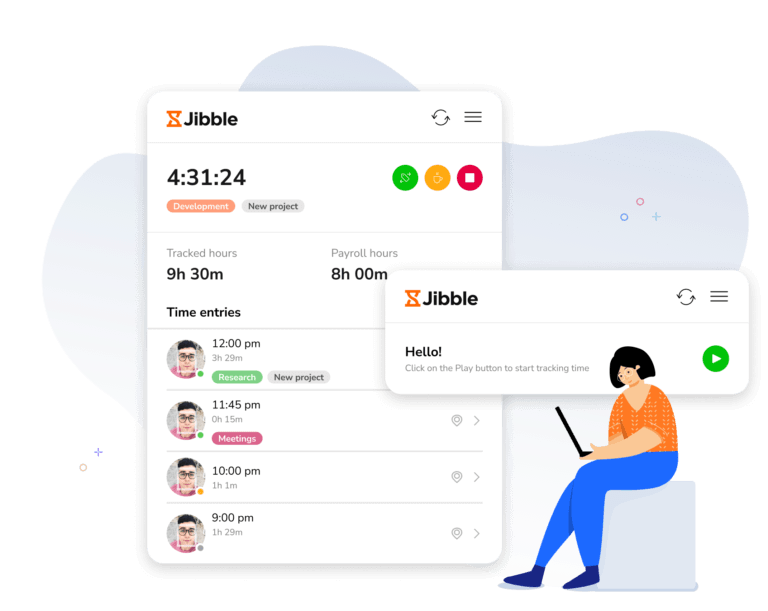 2. Hubstaff
The Hubstaff time tracker is a versatile tool that combines an array of time tracking and productivity features wrapped in a user-friendly interface.
One of the things that I liked about this app is its ease of use. To start tracking time, you simply need to select the project you're working on and hit "Start." It operates quietly in the background, tracking your time and location accurately. When you're done, just click "Stop." It's as simple as that.
Another thing that sets Hubstaff apart is its capability to track your time and other crucial data points, such as keyboard and mouse activity, offering a more accurate picture of your work patterns. Furthermore, it integrates seamlessly with popular project management and collaboration tools like Trello, Asana, and Jira, simplifying your workflow and saving you valuable time.
While the extension excels in many aspects, it's important to note that Hubstaff's tracking features may seem invasive to some employees, especially their screenshot feature, so it's best to use them with caution. Also, note that this app's free version is limited to only one user, so it may fit individual needs best, but for teams or businesses, paid plans are available and offer a more comprehensive suite of features.
What Users Like
A wide array of integrations

Easy to use

Automatic idle time detection
What Users Don't Like
Invasive tracking features

Frequent software crashes

Free version is only limited to one user
Key Features
GPS location monitoring

Real-time reports

30+ project management integrations

URL Monitoring
Ratings
Why not check out our full, and of course completely honest, Hubstaff review?

3. Toggl Track
Toggl Track, formerly known as Toggl Button, is another time tracking extension worth looking into. It offers several features aimed at simplifying time tracking and enhancing real-time productivity monitoring.
The setup is fairly straightforward. All you need to do is add the extension to Chrome, log in to your Toggl Track account from the extension menu or the website, and grant the extension permissions to integrate with the services of your choice.
You can start tracking time by clicking on the "Start Timer" button. Access the timer extension's dropdown menu to view your total tracked time for the day and week. You can also edit or delete time entries right within the extension.
On top of its basic time tracking features, Toggl also comes equipped with a Pomodoro timer, idle detection, and tracking reminders. These functionalities are designed to optimize your time management and boost productivity effortlessly.
Whether you're using Trello, Slack, Asana, Todoist, Jira, or any of Toggl's 100+ integrated applications, Toggl Track's timer function allows you to monitor your productivity in real time without switching tabs. It even caters to your Pomodoro technique needs with automated reminders, ensuring you stay focused and efficient.
While Toggl's free version is generous, it is limited to one seat and two projects. Any more than that, and you'll have to upgrade to the paid plan. There have also been more and more glitches with their recent updates. This can put a strain on your overall time tracking experience.
What Users Like
The timer is easy to use

Allows time entry edits on the extension

Several integration options
What Users Don't Like
Bugs and glitches with updates

Longer than usual loading times

Repeatedly requests re-authorization
Key Features
Idle time detection

Pomodoro timer

100+ integrated applications

Tracking reminders
Rating
Why not check out our full, and of course completely honest, Toggl Track review?

4. Harvest
Harvest's free timer Chrome extension isn't exactly the most advanced in the market. But its strength lies in its simplicity. It provides basic time tracking features, providing a hassle-free time tracking experience that seamlessly integrates with your daily workflow.
Track time by selecting the project and task you'll be working on. You can also add brief details about what you'll be doing in the notes section.
For more seamless time tracking, you can integrate Harvest with popular project management tools such as Asana, Basecamp, ClickUp, Trello, GitHub, and Jira. When using these applications in Chrome, you have the option to start timers on specific to-do items, cards, issues, or pull requests. 
Harvest's forever-free plan offers access to one seat and two projects. The full suite of features, including unlimited projects and time tracking, is only available with the paid plan. It's also important to note that Harvest's paid plan is among the pricier options in the market, priced at $10.80 per user per month. So it may not be for everyone.
What Users Like
The timer is very easy to use

Integrates with popular project management tools
What Users Don't Like
Bothersome notifications

Too basic features

It doesn't display a live counter
Key Features
Project management integrations

Customizable reports

One-click timer
Ratings
Why not check out our full, and of course completely honest, Harvest review?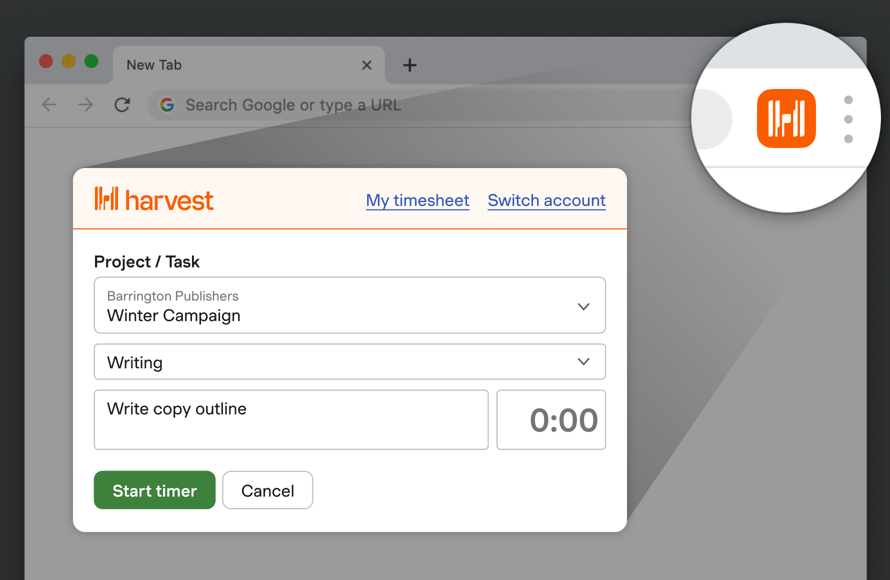 5. TimeCamp
The user-friendliness and broad integration options of TimeCamp's free timer Chrome extension earn it a spot on this list. Plus, the fact that it offers a free plan for unlimited users, of course.
You can begin tracking your work hours by clicking the start button on the timer and stopping it when you finish your task. The plugin extracts the task name from the app you're using, eliminating the need for manual input. It also automatically syncs with TimeCamp, ensuring that your time entries are immediately recorded in your timesheets.
Alternatively, you can manually input time entries by specifying the start and stop times for your tasks, offering the flexibility to switch between different tabs and applications.
You can also seamlessly integrate TimeCamp's Extension with widely used tools like Asana, Trello, and Slack. This level of integration transforms TimeCamp into a comprehensive time tracking solution that seamlessly aligns with your existing workflow. 
What Users Like
Wide array of integration options

Free for unlimited users

Great for tracking projects

Option to manually add time entries
What Users Don't Like
Custom service is unresponsive

Disappearing start and stop buttons 

20-25% CPU power usage
Key Features
User-friendly interface

Multiple integrations

Automatic syncing of time entries
Ratings
Why not check out our full, and of course completely honest, TimeCamp review?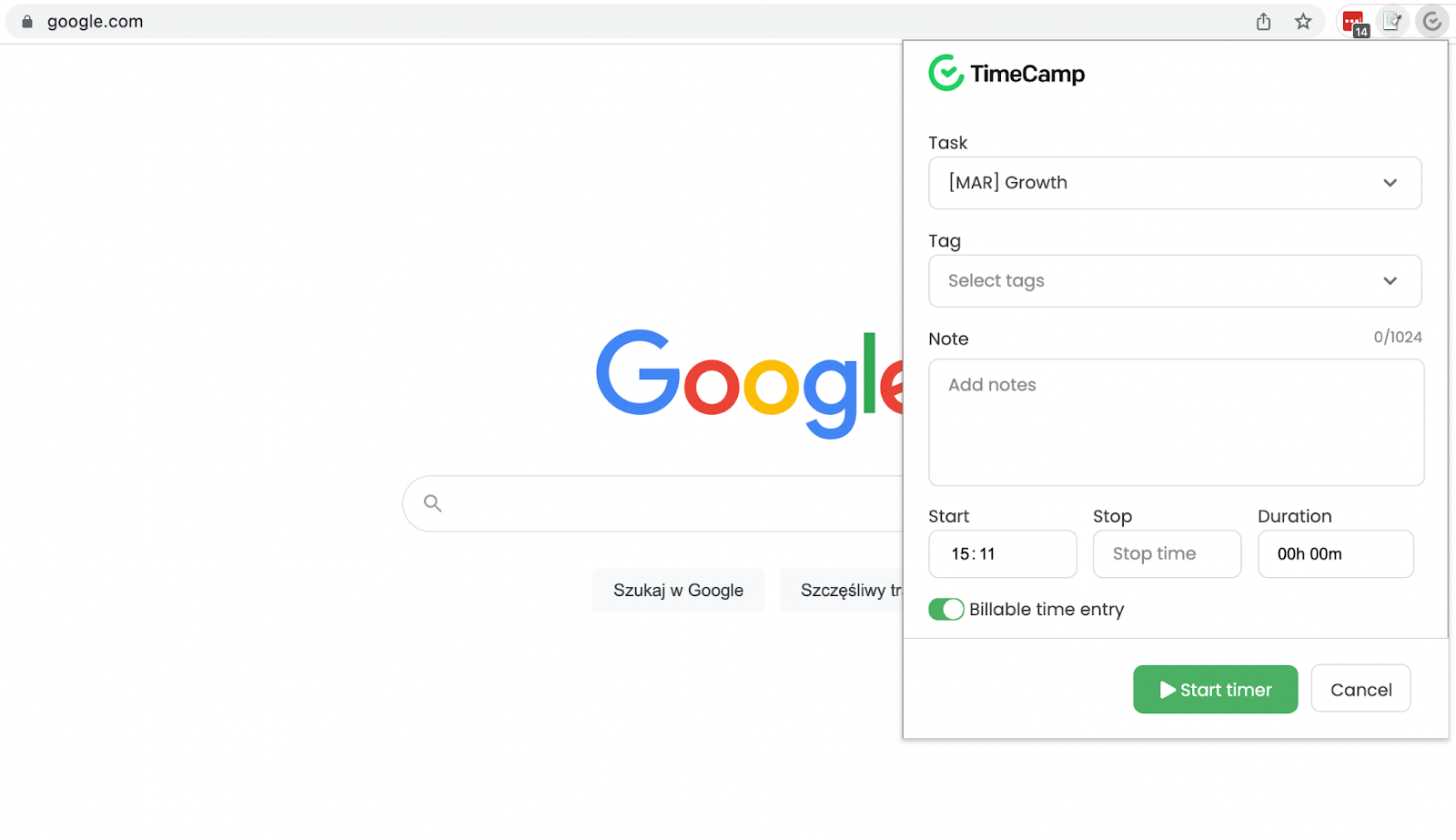 6. Everhour
Last but not least is Everhour's Chrome time tracking extension. This extension provides users an easy and accessible way to track time right from their browsers – no more switching tabs!
One of the great things about this extension is that it provides a detailed view of task-specific information. This includes time estimates, reported time, and the users who have contributed their time to the task, along with their respective time entries. 
It also has an automated time tracking feature that clocks employees in when they open their browsers and out when they close them. If the automatic time tracking feature isn't for you, you can manually clock in your time with the click of a button. For added accuracy, enable reminders to ensure employees remember to clock in and out at the right times.
The Everhour extension takes all work hours into account, including breaks, overtime, and even idle time. Seamlessly integrate it with a range of popular project management apps such as Asana, Trello, JIRA, Basecamp, and ClickUp for a smoother and uninterrupted work experience.
What Users Like
Easy-to-use timer

Great, almost native, interface for integrations

The support team is responsive
What Users Don't Like
Issues with the Everhour logo link

Lacks more historical information
Key Features
Clock in/out reminders

Several available integrations

Automated time tracking
Rating
Why not check out our full, and of course completely honest, Everhour review?