As a CEO of a time tracking software company, I need to know what my competitors are up to. That means I'm often researching about and/or playing around with their products… you know, it's part of the job. Here, I share my findings from that research, giving credit to those competitors where credit is due and being honest about which products I believe you really need to avoid. And so, there you have it, this review. And in it, I try to be honest, fair, and insightful.
This Review Covers:
Overview
Founded in 2015, Personio is on a mission to automate people processes and give HR teams time to focus on what really matters – the people. And with the wide range of features this software offers, I would say it's on the right track.
As an all-in-one HR solution, Personio covers a wide spectrum of functions, from attendance tracking and absence management to payroll and talent management. Right off the bat, I was very impressed with the app's sleek and organized interface. You can even upload your company logo to give a personalized feel to it.
From the home tab, you get a good overview of your workflow. This includes all your pending tasks, overdue onboarding, approvals requiring signatures, leave requests, etc. You can take action on these tasks right then and there, saving you loads of time. Aside from workflow data, the home tab also shows which employees are absent and the total work and break hours for the day – think of it as your HR command center, designed to keep you in control and on top of your HR responsibilities!
It's worth noting that Personio offers both mobile and web app options, ensuring you can access it from wherever you are. However, if you need to track time, that feature is exclusive to the mobile app. While you can still manually input time via the web version, it's really not the most accurate way to go.
The functionality of Personio as an HR software truly shines with its Talent Management feature, which allows you to manage every aspect of the employee journey from hiring to training to offboarding. With the immense volume of data that comes with the hiring process, Personio streamlines these tasks, letting you access open positions, applications, and applicant details in one centralized system. You can also automate performance cycles, promote job openings, and send out interview invitations seamlessly within Personio. Talk about convenience.
There's definitely no doubt that Personio is one powerful HR software. But much like any other software, it does have its flaws. Several users can vouch for that.
For one thing, the web app takes a bit of time to load, even with a strong internet connection. The mobile app also has very limited functionality compared to the web app. You can only use it to track time, request absences, and look at basic employee profiles. That's basically it. None of the powerful HR features that the web app has.
I'm also not a fan of their non-transparent pricing. You should at least get to know what you're getting into and if you can afford their service in the first place before you book a demo, right? While they do offer a 14-day free trial, it comes with pre-populated sample employee data, which can confuse users exploring the software for the first time.
So, would I recommend Personio? Well, before I hand in my final verdict, let me give you a more detailed lowdown of Personio, its standout features, and what users have to say about it.
What Do Users Like About Personio?
Very easy to set up and use

Intuitive interface

Wide range of integrations

Streamlined workflow approvals
What Don't Users Like About Personio?
Slow loading times

Login issues on the mobile app

Free trial is hardly useable because of the pre-existing sample data
What Pricing Plans Does Personio Offer?
Personio offers two paid pricing plans tailored to suit the diverse needs of businesses: Core and Core Pro. The big question is: How much will these plans cost you?
Well, you'll have to book a demo to find out. Personio does not provide transparent pricing on its website. Instead, they adopt a customized pricing model, which means that the cost of using their services can vary depending on factors like the size of the organization, the specific features required, and the level of support needed. This lack of transparency can be frustrating for businesses looking to assess whether Personio fits their budget quickly.
To know which plan will be a better fit for your company, let's take a deeper look at what these two plans have to offer.
Core
Core is claimed to be Personio's most popular plan offering Absence Management, Time & Attendance Tracking, and the Mobile App.
This comprehensive plan brings all your HR needs under one digital roof. You can efficiently manage digital employee files, create advanced employee lists, and even handle salary information, all within a unified platform. However, it's worth noting that the Advanced Document Management features are somewhat limited in this plan.
Beyond just managing employee data, the Core plan empowers you with features like people workflows and automation. This means you can set up role-based reminders, establish policies for workflow approval, and streamline processes for onboarding and offboarding.
What's even more impressive is Personio's flexibility. You have the freedom to customize reports, permissions, and access to match your company's unique structure and requirements. This customization ensures that only the right people have access to specific HR data and functionalities, which is crucial for maintaining data security and privacy.
While the Core plan may have some limitations, it also includes a valuable ESignature Workflows feature. This feature simplifies the process of legally and digitally signing employee documents using electronic signatures. This is particularly noteworthy given the volume of paperwork that often comes with HR processes, making it a real-time-saver.
Core Pro
The Core Pro plan takes everything great about the Core plan and dials it up a notch, offering a truly limitless experience. You'll get to enjoy all the features found in the Core plan, but this time, with unlimited access to the ESignature Workflows and Advanced Document Management features, allowing you to make the most of these powerful tools without any constraints.
Furthermore, Core Pro provides enhanced options for customizing access and permissions. You can now implement an even more secure login process using OAuth 2.0, ensuring standardized access management across your organization. You can integrate Personio with OAuth providers such as Azure AD or Okta, offering a seamless and secure authentication process. It's advisable to collaborate with an IT administrator to set up this authentication method effectively.
Now, although Personio already has a handful of available integrations in its marketplace, including Slack, Zapier, and Microsoft Teams, being subscribed to the Core Pro plan also gives you access to Personio's Public API. This means you'll have the flexibility to create custom integrations and connect Personio with other software or systems tailored to your specific needs.
What are the Standout Features of Personio?
1. Absence and Time Tracking
As part of its HR management system, Personio offers absence and time tracking, with the latter being only available in its mobile app.
With the absence management feature, you can automate holiday approval processes and workflows. The system will automatically calculate employee leave entitlements and accruals, ensuring precision and eliminating errors in the process.
When requesting leave, employees can choose which leave type they want to use, the leave duration, as well as their substitutes as needed. Managers and HR can conveniently view a calendar to track employee absences, whether due to illness or vacation. This aids in better scheduling and resource allocation, so you never end up being short-staffed.
As for the time tracking feature, it's pretty straightforward. You can start tracking time on the mobile app with the press of a button. You can also set predetermined break times to ensure all work hours comply with legal standards. All tracked hours automatically reflect on the attendance calendar of the web app, which I think is pretty neat. But be sure not to forget to turn off your timer, or else your time entry will be discarded. You will have to enter the lost time manually on the web app.

2. Talent Management
Personio's Talent Management feature is designed to cater to every stage of the employee lifecycle, embodying a holistic and productivity-boosting approach. From the moment you bring new talent on board, Personio's Talent Management feature seamlessly facilitates their development journey, spanning from hiring and training to eventual offboarding.
Under the Recruiting tab, you'll have access to all applicant data and job openings. You can schedule interviews, gather internal feedback, and expedite legal procedures with electronic signatures and contract templates. This all contributes to a smoother and faster hiring process.
When it comes to attracting the right talent, Personio simplifies the process. It automates the publication of job ads on your careers page and over 600 job portals, significantly expanding your candidate pool.
Personio's Talent Management feature doesn't stop at recruitment; it also extends to driving performance across teams. Automation facilitates performance cycles, while continuous feedback and 360° reviews ensure fair and impactful appraisals. Clear goal-setting, progress tracking, and rewards, including bonuses, further motivate employees to excel.
3. Workflow Hub
Personio's Workflow Hub is a dynamic feature designed to optimize your organization's people processes, enhancing efficiency and reducing unnecessary delays. This hub serves as a centralized command center where you can access and oversee all the available workflows within Personio, such as Onboarding, Offboarding, Approvals, and electronic signatures. These workflows consist of sequences of steps crafted to automate recurring procedures that often involve multiple departments, including HR and IT.
With the Workflow Hub, you're in the driver's seat, keeping a close eye on task progress and potential roadblocks in real-time. You can access real-time insights into task statuses and potential bottlenecks, enabling proactive management. You can access it at any time through the side menu or directly from the Workflow Dashboard widget.
It's important to note that the Workflow Hub is visible exclusively to administrators and employees with authorized viewing rights for the Workflow Overview subsection, ensuring data security and control.

4. Analytics and Reporting
Credit where credit is due: Personio's reporting feature is pretty extensive and powerful.
Need data on absence rate, hiring speed, employee turnover, or employee headcount? Access it with just a few clicks under the reports tab. This feature gives you a wealth of information that you can use to make sound and data-driven HR decisions.
You can export system reports for a specific date range and apply filters so your report only contains the information you need. There's also a grouping option that lets you arrange data by department, office, team, and so on. If you need reports that are more targeted to the data you need to analyze, you can create custom reports. With these reports, you have complete control over the data columns that you want it to include as well as the data range it covers. Set report conditions to further get to the results you need.
Once reports have been generated, they can be exported as CSV files or shared with employees within Personio.

5. Integrations
Personio has no shortage of integrations, with over 150 integrations available in its marketplace. These integrations include popular communication tools like Slack, Microsoft Teams, and Google Meet. There are also talent management and acquisition apps like HeyJobs, HiPeople, and Comeet. All these integrations can help you automate your workflows and streamline your HR processes.
Now, if you happen to use other tools in your HR and IT landscape that aren't directly supported by Personio's existing integrations, don't fret. Personio's flexibility extends further with its API (Application Programming Interface). While utilizing the API may require some technical expertise, it opens up a world of possibilities for customizing and connecting your HR processes with various software solutions.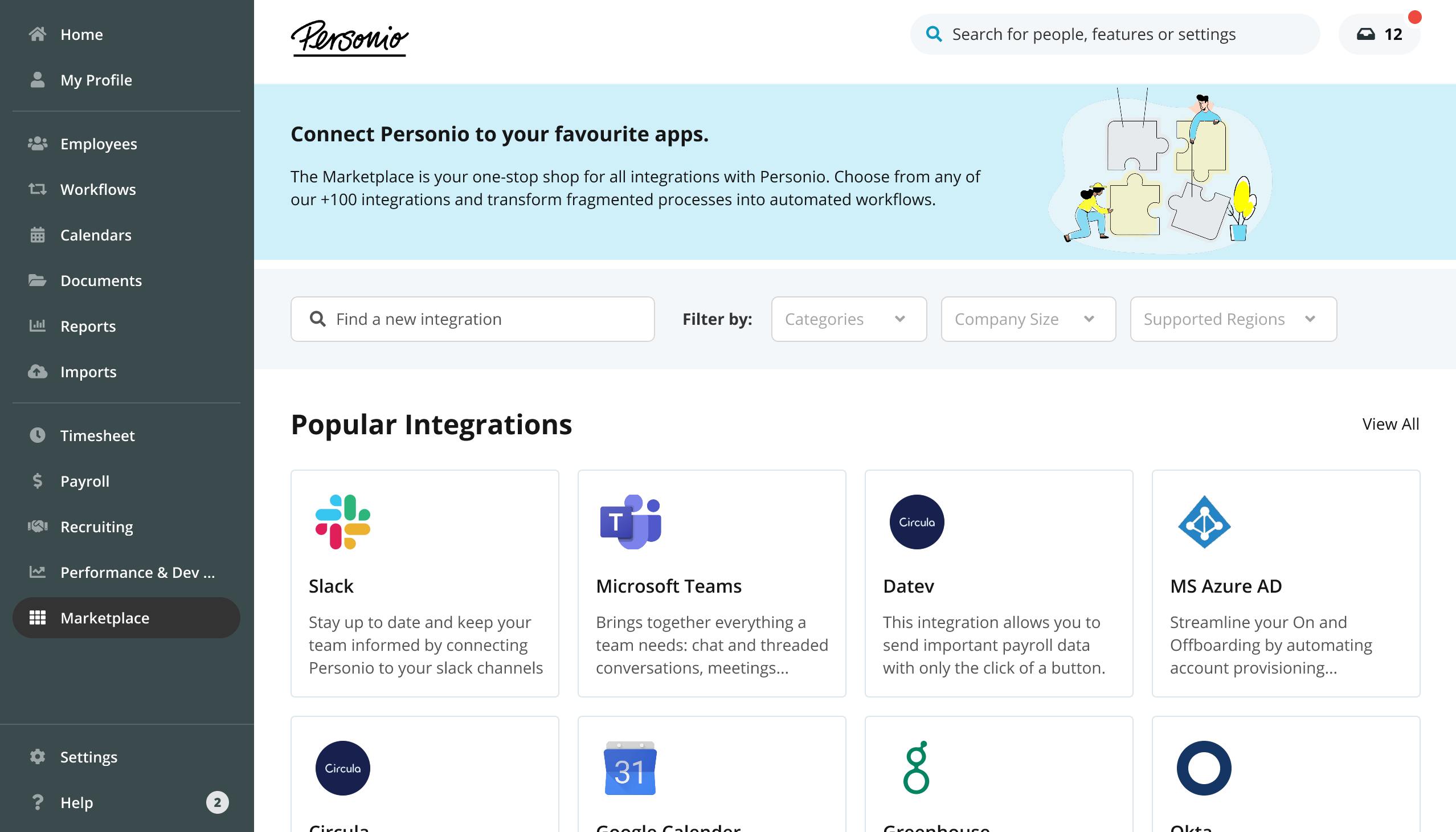 Selected Positive User Feedback:
"With Personio,

we can store all the relevant information in one location with no trouble accessing for individual employees

. It is an

easy to use platform

and any new issuer will have no difficulty getting used to the using the system. "

– Dónall (Source GetApp)

"It's

incredibly user-friendly,

making it accessible even for those with limited IT skills."

– Leyla (Source GetApp)

"

Most features are very intuitive, the user interface is simple and clear, really helpful support team, really good functions.

"

– Ariane (Source GetApp)

"I like the

smooth integration of existing tools with the platform

, specifically with email clients.

" – Sajid M. (Source G2)

"The best thing about Personio for me is how it takes care of payroll processing. It

saves time and minimizes errors by automating the entire process

."

– Emmy W. (Source G2)

"The extensive features that Personio offers are impressive. Its adaptable design, which makes it

simple to use and navigate

, is one of its most notable qualities.

" – Anna-Grace P. (Source G2)

"

It is very intuitive and useful

."

– Sergio (Source Capterra)

"It's really

easy to use and implement the tool

. And I really like the support material – you can find very good articles about each topic and question."

– Manuela (Source Capterra)

"It is an

easy to use platform

and any new issuer will have no difficulty getting used to the using the system."

– Dónall F. (Source GetApp)

"Personio is

simple to use

and

has a pleasant user experience

." – Andrea (Source Capterra)
Selected Negative User Feedback
"

Sometimes a bit slow, better UX needed for custom report creation

." – Marta (Source GetApp)

"

Customer support is very unhelpful

, the tool is immature, there are

a lot of logic mistakes

– e.g. no room for error – if you mess up, you cannot correct it, you need to delete the whole user.

" – Tereza (Source GetApp)

"

It can be

a little slow at times

, and searches could be made better.

" – Andrea (Source GetApp)

"It would be great to have a better and different UI for IOS mobile application, as the Personio

dashboard looks bit clumsy on small screens

."

– Hamna K. (Source G2)

"It's

terrible.

You have to log in each and every single time – even after configuring biometric Login.

" – Kailash Kalyani (Source Google Play Store)

"

Still having a few glitches with listing of all the types of absences

" – Sumi Nair (Source Google Play Store)

"

App doesn't list calendar correctly

. The days off in the desktop do not match the mobile app.

" – JayPidge (Source App Store)

"Each time loging, when i need it i don't have logging dates.

Unusable

."

– Antoni Jozic (Source Google Play Store)

"1.

Lack of flexibility to add breaks

, 2.

Loading the app takes ages every time

, 3. All options to track or add time disappeared a couple days ago (making it basically useless)"

– Fernando Moyano (Source Google Play Store)

"

Limited customization choices

; some of my colleagues have expressed a need for more alternatives for personalizing the platform to the specific needs of our the company."

– 

Aeriel Nicole T. (Source G2)

"This software was bought to help with payroll. In the end, it just became a database to store employee information.

Payroll is much to susceptible to errors to be relied on

."

– Sebastian (Source Capterra)
What are Personio's Review Ratings from Review sites?

(As of 10/8/23)

Capterra: 4.3/5

G2: 4.3/5

TrustRadius: 8.8/10

GetApp: 4.3/5

Play Store: 2/5

App Store: 3.1/5
What's My Final Verdict on Personio?
Personio definitely presents itself as a viable option for companies aiming to streamline their HR operations while prioritizing their most valuable asset – their employees. It covers a wide spectrum of HR functions, from attendance tracking to talent management, providing a comprehensive toolbox for HR professionals.
The interface is very user-friendly, and the reporting features are very extensive. I also really like the functions under the talent management feature. The fact that you can have all of this data on your hiring process and take action to schedule interviews, promote job openings, and gather internal feedback is a game-changer. It simplifies the often complex and scattered HR processes, allowing you to stay organized and save a lot of time.
Personio isn't perfect, of course (what software is?). Its mobile app still has plenty of room for improvement. It has very limited functions and is frankly only good for time tracking and monitoring leaves. The bugs and glitches that other users have experienced are also something they should look into. As for the web app, although packed with powerful features, the loading time can be a bit of a drag.
But in these areas where Personio lacks, they make up for with a great interface and very powerful HR management features. All in all, I would still recommend it to any company looking to streamline their HR operations and put their employees first. But I suggest you first give their free trial a go and see how well it fits with your workflow.