As a CEO of a time-tracking software company, my team and I are constantly looking at the best B2B software to know what's going on in the market. That means we're often researching about and/or playing around with their products; you know, it's part of the job. Here, I share my findings on the 8 best time tracking apps for Android, giving credit to those products where credit is due and being honest about which products I believe you really need to avoid. And so, there you have it, this review, and in it, I try to be honest, fair, and insightful. I hope it helps you make the right decision…
Why You Need a Time Tracking App for Your Android Device
Ever wonder where your day went? Or why that project that you thought would only take you 2 hours took you 8? Well, a time tracking app can help you find out.
By logging your activities and the time you spend on each task, you'll get a clear picture of how you're utilizing your precious minutes and hours. You might be surprised to discover how much time you spend on non-essential activities and how little you dedicate to the things that matter.
But time tracking apps do more than just track your time for personal insights. They're also powerful tools for team management. With a time tracking app on your Android phone or tablet, you can keep your team in check and ensure everyone is on track with their tasks. This helps you identify any bottlenecks or delays early on, allowing you to take necessary action and keep projects running smoothly.
According to a recent survey by Pew Research Center, around 35% of remote-capable workers in the US are currently working from home full-time. With more and more people working outside the office these days, a time tracker app right on your Android device becomes even more crucial. These apps let you track your time anytime and anywhere, whether working from home, attending meetings outside the office, or traveling for business.
Read below for our list of the best time tracking apps for Android devices. Trust me, once you start using one, you'll wonder how you ever managed without it!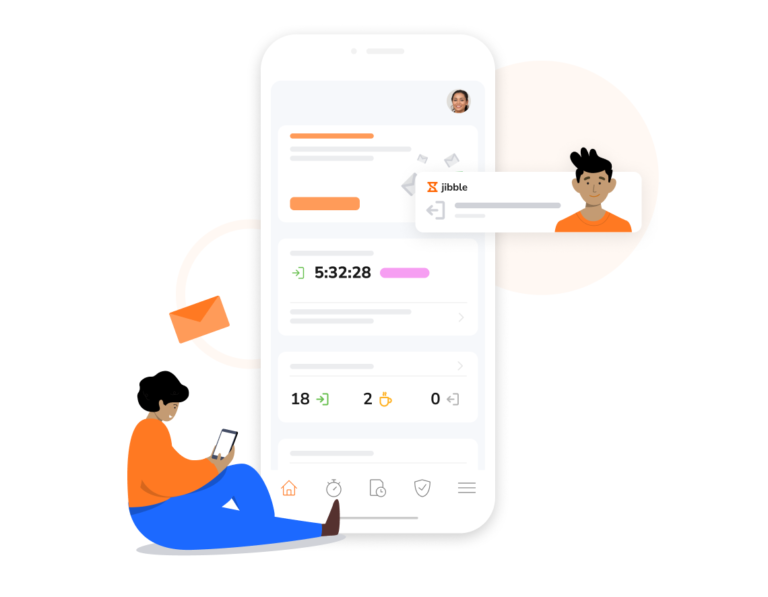 8 Best Time Tracking Apps for Android in 2023
The Definitive List
1. Jibble
A free time tracking app with unlimited users, top-notch time tracking features, and a user-friendly interface. Seems too good to be true, right? Well, the Jibble time and attendance tracking app is the real deal.
Jibble's interface is thoughtfully designed to give you the best user experience possible. It's evident in the small details, from the easily accessible menu buttons at the bottom of the screen to the sleek dashboard complete with charts that make productivity analysis easier.
Users can start tracking their time using the app's time clock with just a few taps. Simply select the activity and project you're working on, and you're good to go. If you need to go on a break, there's a dedicated button right on the side of the screen. And you can also switch activities seamlessly without stopping the timer.
All the recorded time on the app is automatically populated on the timesheets page, eliminating the hassle of manual time entries. This includes breaks and overtime hours. You can also choose from monthly, bi-weekly, or weekly pay periods to approve timesheets and streamline your payroll process.
If you're running a large team, Jibble can help you easily manage people and groups within the app. You can split your departments into groups and assign managers, allowing you to assign specific activities and projects to different groups. This helps with efficient project management and delegation.
For added security, you can activate the facial recognition feature on the app to eliminate buddy punching during clock-ins. You can also use GPS location tracking, requiring your team members to provide their location when they clock in. Plus, you can set up geofenced locations, ensuring that they can only clock in from specific places.
There's no doubt that Jibble is a powerful tool that will help you manage your time and your team's time effectively. Don't just take it from me. Jibble has also received high ratings on reputable platforms such as Google Play Store, G2, and GetApp. Give it a try and see the difference it can make in your workflow!
Top Features
Facial recognition

GPS tracking and geofencing

Accurate real-time attendance data

Project Time Tracker

Detailed reporting and analytics

Automatic Timesheets
Ratings
Google Play Store: 4.8/5

G2: 4.6/5

Capterra: 4.8/5
2. RescueTime
RescueTime is a great time-management tool that provides valuable insights into how you spend your days. It's big on productivity tracking.
So, what does RescueTime for Android offer? Firstly, it automatically tracks your application usage on your Android device. This way, you get a comprehensive view of how you spend your time. The best part is that activities are categorized by productivity level, so you can see how your device usage impacts your day, work patterns, and overall focus.
RescueTime also can set screen time goals and control your phone usage. Whether you want to reduce your screen time by hours or minutes, this app has got your back. And if you happen to go over your set limit, RescueTime will notify you in real time.
If that wasn't enough, RescueTime also has a "FocusTime" mode that blocks all websites and applications you've categorized as personal activities. 
From the app, you'll be able to see summarized reports where you can see how many hours you logged through the day and what activities or projects you spent them in. There's even a Productivity Pulse that the app displays to give you an idea of how productive you were for the day.
Now, I won't sugarcoat it—there might be a learning curve when you first start using RescueTime. You'll first need to identify which activities you can classify as personal or productive. And since it's more of a productivity app, it's more suited to personal use and not really for managing team hours.
Top Features
Automatic productivity alerts and notifications

Distraction blockers

Daily highlights

Weekly, monthly, and annual reports

Screen time goals

FocusTime sessions
Ratings
Google Play Store: 3.6/5

Get App: 4.6/5

G2: 4.1/5
3. Timely
One of the great things about the time tracking app Timely is how user-friendly it is. After you download it, you'll be prompted to connect your calendar and conferencing tools. This allows Timely to incorporate your meetings seamlessly into your work schedule. You can also easily add projects, tasks, and clients and even set your hourly rate for different people and projects. Timely simplifies the setup process, making it a breeze to get started.
Once everything is set up, Timely works quietly in the background. There's no need to remember to start and stop timers manually. At the end of the day, you only need to spend a few minutes dragging and dropping your activities into their respective projects on your timesheet. While this is a straightforward process, I would still very much prefer automatic timesheets to avoid manual errors though.
Timely also offers detailed and customized reports, allowing you to gain valuable insights into your work. You can easily view unbilled hours and generate reports for your entire workspace or specific projects. With report templates, you can create customized views filtered by clients, projects, people, tags, or teams.
Now, Timely is great and all, but it's essential to note that Timely might not be the right fit for everyone. If a significant portion of your work is done off-screen, Timely's primary focus on tracking and categorizing device-based work may not meet your needs. It also doesn't offer a free plan.
Top Features
Project and team time management

Non-billable and Billable hours tracking

Customizable reports

AI-assisted time logging

Real-time project dashboards
Ratings
Google Play Store: 3.5/5

Get App: 4.7/5

G2: 4.8/5
4. Hubstaff
If you're a manager or business owner looking to streamline employee workflow, Hubstaff can present itself as a great solution. This app has a range of features geared towards employee time tracking and management making it ideal for small to large teams. I wouldn't really recommend it for individual use, though, especially when you only need basic time tracking features.
With a single tap, you can track your time and return to working while Hubstaff works in the background. A summary of the time and activities you record on the app can be viewed on the app's dashboard. You'll also be able to see which team members are in or out, as well as how much time they've worked for the day or week.
On the employee management side, the app enables you to set schedules for each employee and place limits on their work hours. You can also turn on employee shift reminders to avoid late, missed, or abandoned shifts.
If you have mobile or remote workers, you can use Hubstaff's geofence tracker. This means that employees won't even have to start the timer on their own. The app will automatically start tracking time while they're in a specific zip code, area, or office.
On top of all of these, Hubstaff is also equipped with budgeting, invoicing, and payroll features. It eliminates conventional payroll and invoicing. The app can make automatic payments via PayPal, Bitwage, or Payoneer as per the working hours and policies you've set.
Top Features
Online timesheet calculation

Employee scheduling

Geofencing

Invoicing and payroll management

Project budgeting

Productivity reports
Ratings
Google Play Store: 3.2/5

Get App: 4.6/5

G2: 4.3/5
5. Toggl Track
Toggl Track is a simple and versatile time tracking app with some pretty nifty features. It's very easy to use too.
Unlike many other time tracking apps, Toggl doesn't demand much from you when you start timing a task. You don't need to enter client, project, and task details beforehand; you can start tracking your time immediately. And you can conveniently view your tracked time entries in a grid or calendar format and worry about the specifics later.
Need a visual representation of your time tracking data? Toggl has got you covered with its graphs and pies. These charts come in various formats, allowing you to visualize your data and get a clear picture of what you and your team have been up to. It's a great way to gain insights into productivity and make informed decisions about optimizing your organization's time.
Toggl can also help you stay organized and on top of your schedule. The app can connect with your calendar to seamlessly add events as time entries with just a single tap.
Oh, and if you're into dark mode, you'll be happy to know that Toggl has this feature on deck. You can switch on dark mode and give your eyes a break.
All in all, Toggle Track is a fantastic tool for basic time tracking and reporting, offering a simple and easy-to-use free plan. However, it's important to note that if you're seeking more detailed insights into your work, saved reports, or the ability to track billable hours, you'll need to upgrade to their Premium plan. Depending on your needs, another app on the market might provide this for you for lower cost, so it's worth exploring your options.
Top Features
Calendar Integration

Light and Dark Mode

Time Optimization Suggestions

Visual Time Reports

Easy Time Tracking
Ratings
Google Play Store: 4.6/5

Get App: 4.7/5

G2: 4.6/5
6. Timeular
Timeular is all about instant and effortless time tracking to help you become more productive and gain valuable insights into how you spend your time.
To start tracking your time, simply pick from your list of activities and tasks that you'll be working on and press the start button. This way, you won't have to spend more time on the time tracking process and actually focus on your work.
The app provides intuitive graphs that allow you to quickly understand how you're spending your time. These visual representations make it easy to identify patterns, spot areas for improvement, and make informed decisions about optimizing your workflow.
Timeular also offers flexibility when it comes to managing your time entries. You can manually edit entries, add new ones, or delete them as needed. This ensures that your time tracking is accurate and tailored to your specific needs.
With synchronization across devices, you can seamlessly switch between your Android phone, tablet, or any other devices you use. Your time tracking data stays up to date and accessible, no matter where you are.
Now, this app has a range of great features, but it's worth noting that the user interface can be a bit complex to navigate. It might take some time to get used to all the functionalities and find your way around. Additionally, some users have experienced slower processing times with the app, which has resulted in a rating of 3.7 out of 5 stars on the Google Play Store.
Top Features
Intuitive graphs

Customizable time reports

Synchronization across devices

Manual and automatic time entries
Ratings
Google Play Store: 3.7/5

Get App: 4.6/5

G2: 4.5/5
7. TimeCamp
With TimeCamp, starting a timer is as simple as a single tap. Whether you're on your way to the office or heading home, you can track time to your existing projects or create new ones on the fly. If you prefer, you can also fill in your timesheet manually, ensuring that all your time is accurately recorded.
The app's intuitive interface makes it easy to create and manage projects and tasks. Editing time entries is a breeze with just a few clicks, enabling you to make any necessary adjustments quickly. You also have the option to mark time entries as billable or non-billable, making it convenient for tracking billable hours for client work or distinguishing between different types of tasks.
If you find yourself in a remote location without an internet connection, TimeCamp provides offline capabilities, too, allowing you to log your time even when you're not online. Most importantly, all the data you record on the app seamlessly syncs with the TimeCamp web app, ensuring your time tracking data is always up to date.
In a nutshell, TimeCamp offers simple time tracking and timesheets that help you spend more time on important work and less time on data collection. It's worth noting, though, that while TimeCamp excels in time tracking and providing insightful data, it doesn't offer billing and invoicing functionalities.
Top Features
Offline time tracking

Manual time entry editing

Billable and non-billable tracking

Automatic time tracking

Built-in report templates
Ratings
Google Play Store: 3.8/5

Get App: 4.7/5

G2: 4.7/5
8. Apploye
Apploye's Android time tracking app goes beyond basic time tracking. It also offers robust attendance tracking. You can collect information about when employees clock in and out, eliminating the need for manual clocking systems. This provides accurate attendance data for effective workforce management.
All the recorded time is conveniently organized in timesheets, allowing you to review and analyze the data. And you can view timesheets by days, weeks, or months or even set custom date ranges to fit your needs.
Managing projects and tracking tasks are made simple with the Apploye app too. The app even provides options for project budgeting and progress tracking. Employees can create tasks within projects and track their progress, ensuring efficient project management.
If you have remote workers, you can use the GPS location tracking feature to enable effortless monitoring of your field employees' whereabouts to ensure their safety and accountability. The app also offers a geofence tracker, allowing you to set virtual boundaries and receive timely notifications when employees enter or exit designated areas.
While Apploye offers many benefits, there are areas where it can improve. The reporting feature lacks the detailed information that employers require for informed decision-making. Additionally, the absence of critical third-party integrations and customization options limits its suitability for businesses with specific software needs.
Top Features
Time tracking with timesheets

Clock in with Attendance

Project and task tracking
Ratings
Google Play Store: N/A

Get App: 4.9/5

G2: 4.5/5
What Should You Look For in a Time Tracking App for Android?
Not all time tracking apps for Android is created equal. Here are some key factors to consider when looking for the right time tracking app for your needs:
User-Friendly Interface

: Look for intuitive and easy-to-use time tracking apps. You want to spend your time tracking your activities, not figuring out how to navigate the app.

Multiple Tracking Options

: Different tasks require different tracking methods. Make sure the app you choose offers various tracking options like manual entry, timer-based tracking, or even automated tracking through integrations with other apps.

Reporting and Analytics

: A good time tracking app should provide comprehensive reports and analytics. This feature allows you to gain insights into how you're spending your time, identify patterns, and make informed decisions about your productivity.

Mobile and Cloud Sync

: Ensure that the app synchronizes seamlessly across multiple devices and has cloud backup capabilities. This way, you can access your time data from anywhere and never worry about losing it.

Customization Options

: Everyone has unique needs when it comes to time tracking. Look for an app that allows you to customize categories, tags, labels, and other settings to align with your specific requirements.

Reminders and Notifications: Time tracking is most effective when it prompts you to stay on track. Look for app that offers reminders and notifications, helping you to switch tasks, take breaks, or stay focused on your priorities.