As a CEO of a time tracking software company I need to know what my competitors are up to. That means I'm often researching about and/or playing around with their products, you know, it's part of the job. Here, I share my findings of that research, giving credit to those competitors where credit is due and being honest about which products I believe you really need to avoid. And so, there you have it, this review, and in it, I try to be honest, fair, and insightful…
This review covers:
Overview
WebWork, which was founded in 2015, is a software designed mainly for time tracking and employee monitoring. Aside from these primary functions, it also hosts a wide range of features for attendance monitoring, collaboration, reporting, invoicing, and, just recently, payroll. Call it an all-in-one toolbox for workforce management.
Having all these features in your software is great, sure. But how well do these features actually perform?
Well, for time tracking, you'll need to download their desktop or mobile app first. There's no way to start the timer via their web app which can be a bummer for some people. Tracking time via the desktop app is pretty straightforward though. You simply need to choose a job and task you'll be working on, press the play button, and you're good to go. Note that jobs need to be assigned to users beforehand. The mobile app works in pretty much the same way. Except with the mobile app, users also have the option to track location.
On the employee monitoring side, WebWork can measure activity levels based on keyboard strokes and mouse clicks. It also monitors website and app usage to determine productivity levels. There's even a screenshot feature, which, by the way, can take screenshots on up to 3 monitors to give employers an actual view of what employees are working on. Pretty impressive.
All the data recorded via the time and employee monitoring trackers can be viewed right on the web app's dashboard or generated as reports. For easier communication, you can also send reports to your team via WebWork's Team Chat.
Credit where credit is due: I think all these features definitely make WebWork a robust workforce management tool. It would especially be a good fit for remote teams. However, there are some things that I'm not a big fan of. For one thing, the app is riddled with bugs and glitches here and there. I had to refresh the web app several times because it kept crashing. The timer randomly stops tracking, even when the user is still working on a task. And if a user's device shuts down, any time slots and screenshots may be lost permanently. Some Mac users have also faced compatibility issues. All these issues and the app's rather invasive monitoring features can put a dent in the overall user experience.

What Do Users Like About WebWork?
Intuitive and simple interface

Detailed reporting

Ability to track multiple tasks simultaneously

Easy communication through team chat

File sharing and task prioritization
What Don't Users Like About WebWork?
Limited integration options

Randomly stops tracking ongoing task

Can't track time via the web app

Lost time entries when the device shuts down

The report section doesn't match the timesheets
What Pricing Plans Does WebWork Offer?
WebWork offers two plan tiers to meet the unique needs of your business. Whether you're a small startup or a growing enterprise, there's a plan that aligns perfectly with your requirements.
For those who want to dip their toes in the water before committing to a subscription, WebWork has a free trial for 14 days. This offer lets you explore all the app's features along with 24/7 support. There's no need for a credit card to access this trial, and users can choose to cancel anytime.
As for the paid plans, here's a breakdown of their cost and the features and benefits you can expect from each. 
Pro
The Pro plan gives you access to all the features that WebWork has to offer. This includes time tracking, task management, app and website usage, and attendance monitoring. You'll also see user data in real-time through the app's real-time monitoring feature. Know who's currently working, what project or task they're working on, and the app or website they're using.
WebWork also offers four screenshot modes with the Pro Plan to give you a better view of employee activity. Screenshots can be taken every 10 minutes. There's a mode that lets you turn off screenshot notifications, and you can even choose to blur them to protect sensitive information.
On top of all these, users subscribed to the plan can generate online reports and invoices on billable hours, attendance, activity levels, and so on. You can also generate invoices by user, project, or activity for easy billing.
If any issues arise, users can expect 24/7 support to help address them promptly.
Now for the important question: how much will the Pro plan cost you? Well, the Pro plan is priced at $4.99 per use per month. If you opt for annual billing, you can save up to 20% on your monthly subscription fees.
Enterprise
The Enterprise Plan is a custom-tailored solution for larger businesses with more extensive needs. This plan provides all the features available in the Pro Plan, ensuring you get the full suite of employee monitoring and time tracking tools. Additionally, the Enterprise Plan includes premium support, unlimited consultations, and the option for white-labeling, allowing you to customize the platform to align with your branding and identity.
The price for this plan will vary depending on your team's needs. As such, you'll need to book a demo with WebWork for a quotation.
What are the Standout Features of WebWork?
1. Multi-platform Time Tracking
WebWork's time tracker is available on multiple platforms, which allows users to conveniently track their time for various tasks and projects wherever they are. You can access the timer via their desktop or mobile app. As per their website, they also have a Chrome extension. But when I checked at the Chrome Store, it was nowhere to be found. They should probably update that.
Using the timer is a straightforward process. You only need to select the job and task you're currently working on, click the "play" button, and you're all set. You can also add a brief description to provide context for your tracked time.
WebWork offers users more flexibility when clocking in and out. You can choose to clock in via the mobile app and out through the desktop app or vice versa. This adaptable approach allows users to fit their time tracking seamlessly into their workflow, enhancing convenience and efficiency.
Right on the timer, you'll be able to see all tracked hours for the week along with your weekly limit, helping you keep a close eye on your time management and workload. All tracked time is automatically synced to all platforms for easy and real-time access.

2. Employee Monitoring
Knowing what your employees are up to is essential, especially if you manage a remote team. This is where WebWork's employee monitoring features can significantly come in handy. They help give full transparency over employees' working activities wherever they are in the world.
WebWork records employee activity through keystrokes and mouse clicks. It also keeps track of app and website usage, categorizing them into predefined productivity groups. All this data is translated into visual productivity charts, which can be seen via the dashboard.
The app also takes it a step further with a screenshot feature, which can capture the screens of up to 3 monitors. You can choose from four screenshot modes: Screenshot Mode, Background Mode, Blurred Screenshot Mode, and No Screenshot Mode.
The Screenshot mode captures your screen every 10 minutes and provides a pop-up notification, allowing you to preview, edit, or delete the screenshots. In Background mode, the Tracker operates silently without notifications, which is ideal for minimizing distractions. Blurred Screenshot mode blurs the desktop screenshots to protect private information. Lastly, No Screenshot mode, as its name suggests, does not capture desktop screenshots but continues tracking work time and activity levels.
All these employee monitoring features aim to help employers monitor their team's apps and website usage and identify destructive habits to work more efficiently. But when it comes to employee monitoring tools, it's always best to use these features with caution. Some employees may not feel comfortable being monitored this closely. I know I won't. It might also create a sense of distrust within your team.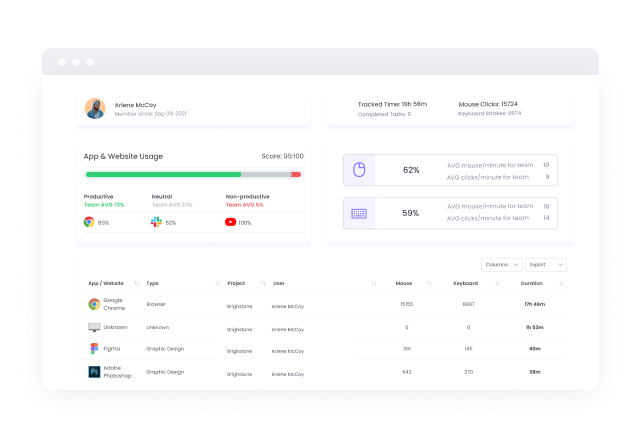 3. Attendance and Time Off Monitoring
WebWork's attendance and time off monitoring feature eliminates the need for time cards, excessive paperwork, and different documents to manage employees' attendance and leaves.
The app takes note of the exact time employees clock in and out. Based on your attendance schedule, the system flags employees who arrive late or who clock out earlier than they should. These employees will receive a pop-up asking why they were late or had to leave early. This allows for much more comprehensive and accurate attendance records. Attendance data can be tracked daily or over a selected interval from the calendar.
When it comes to monitoring Time Off, WebWork allows employers to create custom leave and holiday policies. Employees can request for leaves they're entitled to right from the platform. These requests can also be approved or rejected right then and there by their managers. Managers can also arrange leave themselves for their employees.
All time off data is easily accessible under the Time Off tab. Here, you'll see which leaves have been approved, which are still pending, leave durations, and so on.

4. Invoicing
Creating invoices manually, especially at scale, can be a time-consuming and error-prone process. WebWork helps to make this process easier and more accurate with the help of its invoicing feature.
To generate an invoice, users need to have a billable contract with a specified hourly rate, which they can create on the project or team page, and the hourly rate can be chosen while creating the contract. Once the hours have been tracked, the software automatically converts them into billable hours.
Invoices can be generated by project, member, or activity description. Add a more personal and professional touch to your invoices by uploading your company's logo and filling in the necessary information for both the provider and the recipient. Once generated, invoices can be exported or sent via email. Keep in mind, though, that these invoices are not editable and are automatically generated based on your billable contracts and tracked hours.

5. Reporting
WebWork has no shortage of reports that it can generate to give your business the insights it needs to make informed decisions. The software provides detailed and timely reports that offer precise insights into tracked hours, productivity levels, app and website usage, and more.
Timesheet reports offer precise insights into employees' working hours, categorized by contracts, projects, and members, with flexible viewing options. Timeline reports segment working and non-working intervals, using different colors to distinguish tracked, manual, web, and mobile time.
Attendance reports, on the other hand, detect early departures and late arrivals based on your work schedule. I really like how these are highlighted in red for easy identification. It's a small detail but it matters. Activity level reports provide an understanding of employee productivity, expressed as a percentage based on mouse clicks and keyboard strokes. Depending on your preferences, you can view these reports by contracts or team members.
All these reports are presented in clear tables with multiple columns that offer comprehensive details, allowing you to gain a full picture of employee productivity. You can also apply various filters to generate reports by member, project, task, productivity level, keystrokes, and mouse clicks.

Selected Positive User Feedback:
"WebWork Time Tracker's

user interface is intuitive and straightforward

, making it easy to navigate and utilize its various features." – Goma B. (Source Capterra)

"We can

easily gain control of the remote team of what they are doing with the in-detailed reporting like screenshots, keyboard presses, mouse clicks, etc

."

– Abdul M. (Source Capterra)

"I love that

I can track lots of tasks/projects

. I like that I can add it to my toolbar for

easy access,

and

the ability to create reports for time spent on each task.

"

– Anonymous (Source Capterra)

"My

integrity is preserved through this software

, allowing for

greater trust and transparency.

"

– Verified Reviewer (Source GetApp)

"What I like the most is

the possibility of organizing

and allocating my working hours. Webwork

helps me remain focused and meet deadlines

."

– Sachin A. (Source GetApp)

"Usually, we have high expectations for popular apps, but look what I've found.

The free version offers a huge functionality

for solo freelancers like me."

– Ray M. (Source GetApp)

"I believe that

WebWork Tracker is a great, win-win option for clients

and freelancers/Virtual Workers alike."

– Lorie Therese L. (Source Capterra)

"I can start it as soon as I begin working. I also like that

it allows you to write down the specific task you're working on

so that your employer sees your progress."

– Joel Ángel A. (Source Capterra)

"

It's straightforward to use

, and I love that they offer a

free trial first to make sure of users' satisfaction

"

– Anonymous (Source Software Advice)

"It is the

best employee management tool

I've ever used. This app provides

screenshots of employee's computers every 10 minutes

, so I can see exactly what they are doing."

–yoasdfrkn (Source App Sumo)

"

I especially like the reports

, as I see everything summed up in one place and

don't have to check the details for every member separately

."

– nsgmail (Source App Sumo)

"WebWork Time Tracker is excellent all around.

Time tracking is accurate, screenshots are helpful, the activity tracker is informative, and timesheets are organized

."

– 64a68fcd (Source App Sumo)

"I like most is that the program is

easy to use

."

– Anonymous (Source Software Advice)

"I was searching for kind of team tracking solution to get time tracking ideas, and here at WebWork, it's awesome not just short time but

a lot more features and awesome features to manage different projects, team, leave management

"

– dealme (Source App Sumo)

"I love that WebWork

makes it simple to track where I spend my time across multiple projects.

The

screenshot functionality is one of my favorite features

."

– Jay T. (Source G2)

"All this information is

automatically generated and transferred

into

accurate reports in the form of screenshots, statistical data, graphs, or online reports in the user's web account.

"

–Mohip P. (Source G2)
Selected Negative User Feedback:
"Maybe I missed somewhere t

he option that I can setup (ON/OFF) this feature to work background

and to not popup for every screenshot."

– Dragan V. (Source Capterra)

"Had a problem before with the software since

I am using Mac since it hangs until such time that I am not able to click anything.

"

– Jun Anthony I. (Source Capterra)

"

Reports section does not match (Timesheet, Task, etc

). Secondly, my team wastes a lot of time and

puts the wrong time logs in Basecamp

.

Loss of timeslots when the machine shuts down.

"

– Atul C. (Source GetApp)

"

Limited integrations. Inability to place time tracker location on desktop screen

(shows user error)."

– Anonymous (Source Capterra)

"

Randomly stopped working where there was no activity on the PC

(people walk off their PC but still work on the current task).

Or we start an application we develop, and it stops counting

."

– Anonymous (Source Capterra)

"

Lacks variety of integrations

.

Time slots (screenshots) are lost if the machine shuts down in between

."

– Muhammad Z. (Source GetApp)

"After some weeks of usage, we decided to stop using it as

the functionality was not good

– especially the Windows application.

The application had problems when using more than one monitor.

"

– Michael I. (Source GetApp)

"The total time is tracked correctly,

but it often tracks it on a wrong day,

which complicates billing for some clients."

– Anonymous (Source software advice)

"Also, there are times

reports section are not matching (Timesheet, Task, Activity, and App/Websites

)."

– Anonymous (Source G2)

"Unfortunately,

WebWork doesn't integrate with QuickBooks Online

."

– Arman A. (Source G2)

"

Add description from the popup screen may sometimes not accept new descriptions,

so

it's showing no description in the dashboard. Due to this time, we face issues

."

– Mohip P. (Source G2)

"But I

encountered errors like my screenshot are not recorded

, and

it will automatically stop the work even if I didn't click the stop

."

– Anonymous (Source software advice)

"After 7 minutes of "inactivity," the clock stops. Sometimes you have to watch videos or read a lot at work, but since you're not typing or clicking

,

it tells you that the clock has stopped.

"

–Joel Angel (Source software advice)

"One thing I didn't like is the tracker asks you to change the description every 2 hours and randomly stops tracking ongoing task.

"

– Harit (Source software advice)

"

Had a problem before with the software where it lagged so much and clicks didn't do anything.

"

–Jun Anthony I. (Source Capterra)
What are WebWork's Review Ratings from Review sites?
As of 10/18/23
Capterra: 4.3/5

Software Advice: 4.3/5

GetApp: 4.3/5

G2: 4.7/5

Trustpilot: 3.5/5

AppStore: 4/5
What's my Final Verdict on WebWork?
After exploring WebWork in-depth, I must say it's a robust time tracking software and employee monitoring tool. It covers all the essential bases, allowing businesses to efficiently track employee hours, monitor productivity, and manage tasks seamlessly. While it doesn't have a working Chrome extension, its mobile and desktop make up for this gap. And the attendance monitoring and reporting features do an excellent job of providing valuable insights into workforce activity.
I also like the fact that WebWork includes invoicing in its suite of tools. It greatly streamlines billing processes based on tracked hours, so you no longer have to painstakingly do manual calculations that could take up hours of your time and can be prone to errors. Remote teams can also benefit from the built-in chat feature, making collaboration on different projects and tasks much easier.
However, while WebWork excels in many areas, it does have some downsides. In terms of user-friendliness, I think it could benefit from some fine-tuning. Its interface is good but not exactly great. Certain data, like employee location, took a bit of time to find. The dashboard also looks cluttered with so much information that, frankly, not all businesses may need. The bugs and glitches causing the timer to stop suddenly, screenshots to disappear, and losing time entries are also real bummers.
The web app also tends to crash sometimes, and you need to refresh it every time. There's also the issue of privacy, with WebWork having such comprehensive, sometimes borderline invasive, employee monitoring features. This might raise concerns for some employees and even foster employee distrust.
All things considered, I think WebWork remains a suitable choice for businesses looking to enhance their time tracking, productivity monitoring, and task management. Its employee monitoring feature when used the right way can give great insights into productivity. And if they can resolve their software issues, improve their interface, and add in more integration options, I think they could have some real potential to be a solid app. For now, they have some serious work to do.
I'd say that WebWork's best feature has to be its versatility. It's awesome that the tracker works across multiple platforms. The app is available on desktop, mobile, web and even with a Chrome extension, making it incredibly easy for employees to track time on different tasks and projects at their own convenience.
So, one thing users have pointed out about the WebWorks time tracker is that the software randomly stops tracking time even while a user is still working on a task.
And, there is also a high chance of losing time entries if the tracking device (i.e mobile, desktop etc) shuts down in between. This can make the tracker unreliable – which is pretty annoying in the long run.
Don't waste another minute! Jibble is FREE forever.
Get jibbling with the ultimate time tracking software...
Track time now - it's FREE!