Overview
Time clock software provide businesses with a range of features to automate and streamline their time and attendance tracking processes. Integration with third-party tools, responsive customer service, project management, invoicing, and payroll processing are essential functionalities of any time clock software.
With an increasing demand for remote work, time clock software allow employees to clock in and out conveniently through their mobile phones, facial recognition, or fingerprint scans. Features like geolocation tracking and geofencing are particularly useful for remote or field workers, as it allows managers to track employee locations in real-time. They also help prevent time clock fraud and ensure accurate logging of work hours. Scheduling and leave management are two additional features of time clock software that allow businesses to create and manage employee schedules, approve time off requests, and set up automatic alerts. Other features like compliance with labor laws, custom reporting, and offline modes are also a part of competent time clock software.
To help you find the best solution for your business, we have compiled a list of the top 6 time clock software on the market. With mentions of the user-friendliness, price, and accessibility of each software, businesses can choose a software solution that best fits their needs and budget.
The definitive list
1. Jibble
Jibble is a versatile time clock software that enables users to accurately track their team's working hours, maintain timesheets, and manage attendance while on the go. This all-in-one solution offers project tracking, payroll integration, and an easy-to-use interface that can be customized to meet the unique needs of any organization. 
Jibble offers several time clock features like the one-touch clock in and out kiosk, GPS tracking, facial recognition, and automatic timesheets. It also integrates with invoicing and project management systems to streamline workflow and prioritizes user data protection through encryption. Jibble offers various pricing options, including a free version that provides excellent value. Additionally, their exceptional customer support ensures a smooth user experience, along with detailed reports that produce intelligent insights for every business.
Sure, Jibble is our product, but independently it is actually the highest-rated app according to the aggregate of reviews on sites such as Capterra, GetApp, G2, App store, and Play store.
What Users Like
Free

Easy to use 

Affordable with a stacked free version

Accurate time-tracking due to facial recognition and GPS tracking

Excellent customer support

Feature-rich software
What Users Don't Like
Glitches with the mobile app logging out
Key Features
Customizable settings

Detailed reporting and analytics 

Facial recognition with GPS tracking

Mobile and desktop compatibility 

Automated timesheets and reports

Encryption and security
The obvious advantage that Jibble has is that it's a free time clock software. Start using Jibble right now.

2. Apploye
Apploye is an all-inclusive time clock software that helps businesses keep track of employee activities and productivity. It is an effective time clock software that saves time and money by automating time and attendance processes, improving project management, and streamlining payroll and invoicing. 
Apploye offers several important time clock features such as real-time time tracking from its mobile app, geolocation tracking, scheduling, and leave management. Users can also manually log hours and leave notes on their work timer if they forget to clock in. 
What Users Like
Multi-device accessibility

Responsive customer support

User-friendly and straightforward interface
What Users Don't Like
Privacy invasion due to screenshot feature

Limited customization options

Lack of enough integration options

Reports lack details
Key Features
Allows for real-time tracking or manual logging of work hours

Geolocation tracking

Project management

Shift creation and attendance tracking

Projects and task management with past data as well

RemoteTrack allows URL tracking, screenshot taking, and productivity tracking
Why not check out our full, and of course completely honest, Apploye review?

3. BuddyPunch
BuddyPunch is a cloud-based time clock software that helps businesses monitor attendance, employee schedules, and tasks assigned. Employees can only clock in with facial recognition, thus preventing the chance of an employee clocking in for someone else. Users can also limit who can clock in by using the geofences feature. 
Furthermore, BuddyPunch provides scheduling capabilities, allowing managers to schedule shifts, approve or deny time off requests, and set up automatic alerts and notifications. The software's user-friendly design simplifies managing teams and keeping track of their activities. It also offers an easy, smooth experience with push notifications to keep employees informed. BuddyPunch's significant features include department codes, integration with Zapier, automatic calculation of time off, customizable reporting, and easy-to-use multi-device punch-in options. 
What Users Like
Easy-to-use software

Facial recognition and geofencing
What Users Don't Like
Enterprise-only API

Lags on android devices

Difficulties with punching out

Complicated editing of time entries
Key Features
Facial recognition

Geofences

Department codes for structured project tracking

Zapier integration

Time card for viewing work hours and department code details

Overtime alerts
Why not check out our full, and of course completely honest, BuddyPunch review?

4. QuickBooks Time
QuickBooks Time, formerly known as TSheets, is a time clock software that combines attendance tracking and scheduling. The software's time clock allows for real-time employee activity tracking from any location and includes a web dashboard, mobile app, and time kiosk. QuickBooks Time's GPS tracking and geofencing features assure the integrity of attendance data by prohibiting buddy punching and limiting clocking into certain work zones. 
PTO tracking, team scheduling, project tracking, and API connectivity with third-party applications are additional features of the platform. The software also allows managers to manage employee schedules, approve time off requests, and generate custom reports and analytics using different filters.
What Users Like
Insightful reports

Streamlined payroll management
What Users Don't Like
Lack of simultaneous tracking for projects

Overpriced

Poor customer support

Faulty functionality after Intuit's acquisition
Key Features
PTO tracking

Update scheduling in real-time

Team scheduling

GPS tracking 

Project tracker

Geofencing

Unlimited live support
Why not check out our full, and of course completely honest, QuickBooks Time review?

5. Deputy
A comprehensive time clock software, Deputy makes managing employee scheduling, timesheets, and workplace communication easier. Employers can use it to track employee hours in real time, create schedules, and record staff attendance. They can also fill a shift cancellation by requesting the next available staff member and noting that person's attendance accordingly.
Deputy's rostering features allow employers to automatically compute pay, plan breaks, and obtain comprehensive reports outlining employee hours and earnings. Its time clock features such as GPS location stamps and facial recognition ensure accurate logging in of work hours and unique functionalities like bulk approval of timesheets make it stand out as an efficient time clock software. 
What Users Like
Economic price

Extensive reports

Mobile access
What Users Don't Like
Not easy to use

Outdated user interface

Lack of customizations

Lack of functions in mobile app
Key Features
Real-time attendance tracking

Employee break compliance

Real-time scheduling

Leave tracking

Facial recognition

Payroll integrations with HR and POS systems

GPS tracking
Why not check out our full, and of course completely honest, Deputy review?

6. Replicon
Replicon is a cloud-based time clock software that offers time tracking and project management solutions. The software automates project management, payroll, billing administration, time tracking, and expenditure tracking all in one platform. 
Replicon has sophisticated capabilities including variable billing and invoicing, multi-level approvals, and customizable workflows. Its advanced time clock prevents buddy punching through facial recognition and includes GPS tracking. The software can also be set up as a kiosk, allowing any device to be the primary source of employee clock-ins, which can be maintained through Replicon's support team.
What Users Like
Configurable system

Customizable UI
What Users Don't Like
Location and media access requirements

Impractical integration

Awkward reporting system

Clunky administration

Difficulties with synchronizing mobile and desktop
Key Features
GPS timesheets

Time off management

Payroll and invoicing

Advanced time clock

Expansive absence management

Global compliance
Why not check out our full, and of course completely honest, Replicon review?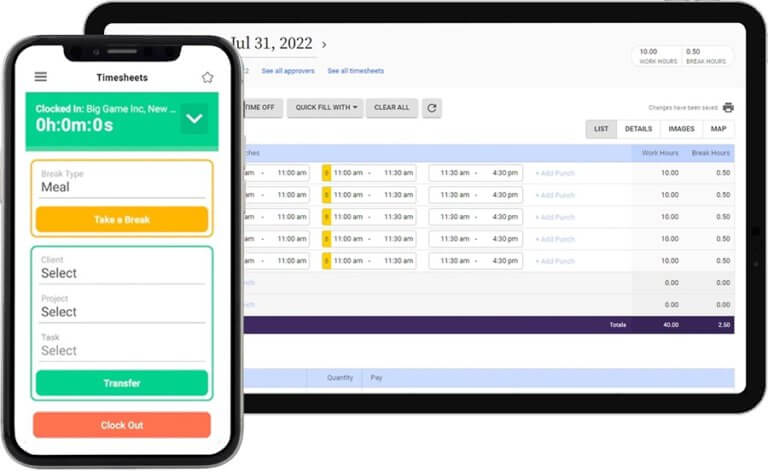 Did you find the information you were looking for?