Timesheet timezone
Use the timesheet timezone feature to get accurate entries and timesheet calculations irrespective of the timezone you are in.
This article covers:
---
Timesheet timezone overview
Timesheets are an integral part of Jibble's timesheet software. You may want to check out how timesheets work.
Timesheet timezone is the setting used to display and calculate a member's timesheets across multiple timezones. If your team operates  across multiple timezones, you can adjust this setting to view timesheets in their local time zones. We recommend setting each member's timesheet timezone to their respective local timezones. This will activate the timezone viewing selector, where you will be able to view time entries based on your preferred timezone.
Timesheet timezone is particularly useful for teams that need to track time when traveling across different timezones (start and end time remains constant, and does not get affected by the differences in timezone changes).
Example of how timesheet timezone affects timesheet display & calculations:
Alan is the owner of an organization operating in the UK. He has members working across different timezones – in the UK, US and Australia. Ben lives in New York in a GMT-4 timezone. If his timesheet timezone is based on the timezone in the UK, GMT+0, it means that his time entries will be displayed and calculated based on GMT+0.
When Ben clocks  in from New York at 9pm GMT-4 on the 13th of March (his local timezone), this time entry will be displayed on his timesheets for the 14th of March instead, as it is being calculated based on his timesheet timezone of GMT+0, which would be 1am GMT+0 on the next day. 


Due to this scenario, we recommend setting each member's timesheet timezone to their respective local timezone to avoid any miscalculations. 
---
Setting up timesheet timezone
A member's timesheet timezone can be configured by an owner, admin or manager under the member's profile page.
Go to People > Click on the member's name.

The member's profile page will be shown.

Click on the pencil icon under the "Date & Time" section.

Choose a timesheet timezone for the member and hit Save.
Note: Changing the timesheet timezone of a member will change all historical calculations of the affected member's timesheets. Timesheets locked for approval are exempted from this.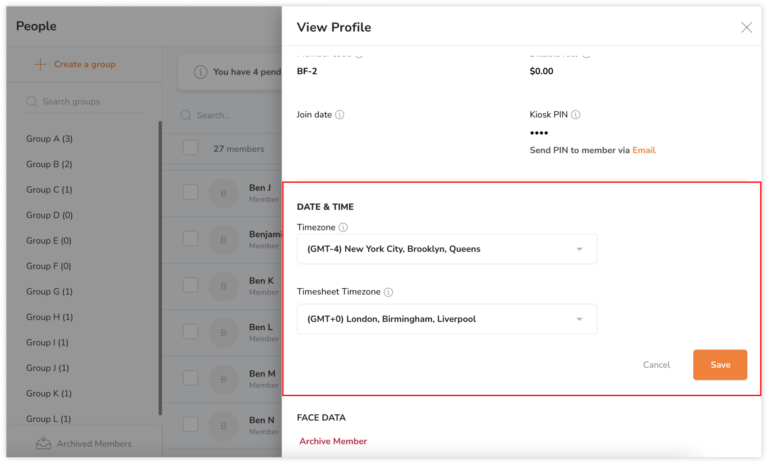 ---
Timezone Viewing Selector
If you and your team member are from different timezones, a "timezone viewing selector" will appear. You can choose to view time entries based on either your timezone or your team member's timezone.
Note: The timezone viewing selector will only be activated and displayed once you've set up your team's timesheet timezones.
To view timesheets:
Go to a team member's timesheet

On the right side of the screen, you'll see a timezone selector next to the orange "Add Time Entry" button.

Click on the down arrow to view timesheets from the following selections:
Original time entries (to view time entries logged in their original timestamp and timezone).

Mine (to view time entries based on your timezone)

Theirs (to view time entries based on your team member's timezone).