Customizing settings for groups
Assign activities to group and customise group time tracking settings
Grouping helps you sort your members together into groups.
Besides adding and removing group members from the group, you are able to manage the group by assigning group activities and customizing time tracking settings for the group.
This article covers:
---
Assign group activities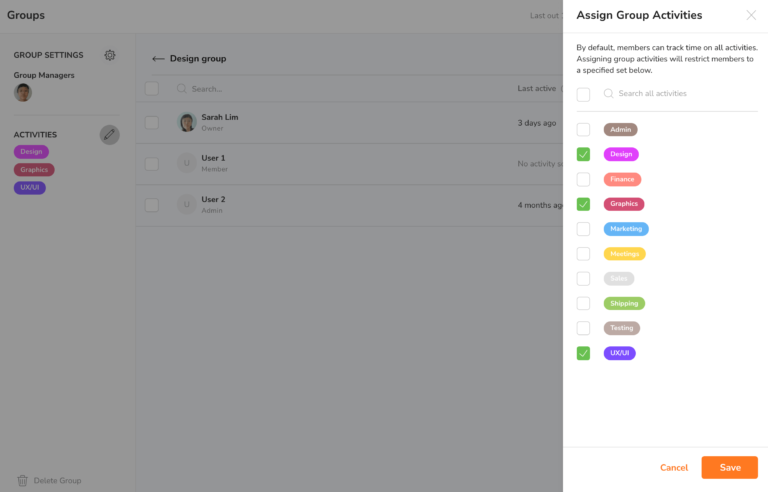 The list of activities assigned to the group can be seen on the left panel. By default, all activities created on Activity Settings are assigned to all groups. Read more on setting up activities.
Activities assigned to the group are applied to all members who are part of the group, and members must adhere to them.
However, when group managers or admins restrict certain activities in a group, those activities are then limited to be used by that group. So when clocking in, the group members can only use those restricted activities that their group has been assigned to.
This is useful if you don't want to allow your group members to clock in with specific activities.
---
Customizing group time tracking settings
If you want your group to have separate time tracking settings from the organization, you're able to configure time tracking policies on the group level.


By default, the group follows the default organization time tracking settings. However, you are able to uncheck to override the organization settings under the group's Advanced Settings.
By making changes and overriding the organization time tracking settings, the group members may be blocked from clocking in and out from specific policies there.

Under the group's advanced settings, the group time tracking settings can be configured with full flexibility and this will override the entire organisation level time tracking settings.
The settings that can be configured and applied to group time tracking settings are:
Device restrictions

Time clock restrictions

Work schedule restrictions

Reminders

Automatic clock out
Essentially, all the policies under organization Time Tracking settings can be configured on the group time tracking settings too.
Regardless of what is set, the group time tracking settings are applied to all group members and must be followed when they are clocking in and out.
---
Related articles