How Aircon Hero shaved 35% of their time wasted on admin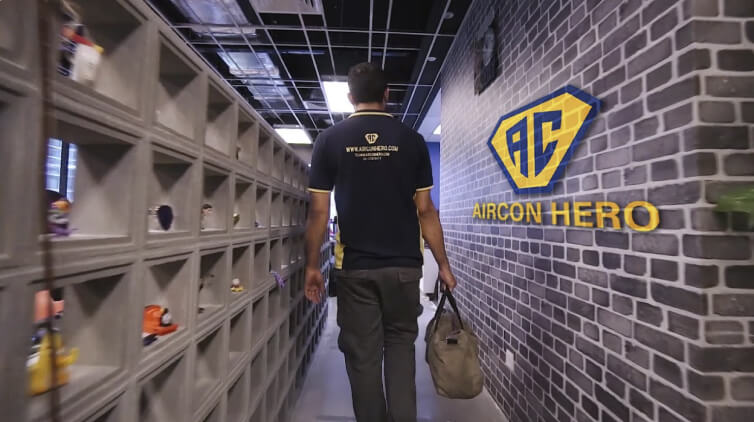 Aircon Hero is one of the fastest-growing aircon servicing companies in Malaysia. Their team of 24 technicians service over 11,000 air-conditioning units throughout 5,440 locations in the region since 2017.
Saving time is a challenge
Sammad oversees the growth of Aircon Hero in the Southeast Asia region. So he needs to track everything at his fingertips, including an overview of his employees' productivity.
Impact
35%

Time saved on payroll processes

55%

Increased productivity
His daily challenge in saving time are:
Gaining insight into his employees' productivity;
Understanding where his offsite teams are;
Making sure the clients are timely serviced to avoid any potential delays;
Staying up to date on travel times for employees;
Understanding any payroll discrepancies.
Technicians are always in the field, and they move around a lot between appointments and locations. Therefore, knowing the expected time of his technicians' activities and whereabouts is crucial to the business. This information helps the management set KPIs and benchmarks for employee performance.
Also, the company's office-based team members are not spared. They suffered from unproductivity and KPI problems because of the lack of insight into activities and time logs. As a result, projects delayed and deadlines turned into backlog.
Without a proper tracking system, overtime payments also slowed down because of complex calculations. Many variables such as flexible schedules, overtime, and double overtime on holidays make the payroll a headache, and human miscalculation just adds to the pain of processes.
To speed up the company's growth, Aircon Hero needs a proper, and effective time & attendance tracking tool. This made them seek Jibble to not only save time but also to make lives easier but improve on their general productivity.
"What isn't tracked doesn't get measured, and time is our most precious resource as a business. Jibble helps end our tracking problem so we get more precious time for other things that matter"

Sammad Nawaz, CEO of Aircon Hero
The solution
KPIs are now easier to set, thanks to the time-saving tracker
After a quick implementation with the Jibble's onboarding team, Sammad's insight into his employees' attendance, interactions and behavior improved!
Sammad is now well-informed of what his teams are doing, and the duration it takes for them to complete their tasks via a quick overview of the dashboard.
In the case of fieldwork delays, Sammad can take control of the situation if he knows his technicians are late. The company can also use the data to estimate their teams' average travel time, so they can better manage their customers' expectations.
Sammad can also use his mobile phone to access this valuable information; making tracking even easier anytime, anywhere.
Time saved in payroll & reporting
At the end of the month, managing payroll has also become effortless with auto-calculation. This feature has helped the payment processing faster especially for their time-based technicians who run on flexible schedules, and overtime on holidays.
Aliff Anuar, Aircon Hero's operations manager, is glad that they no longer need manual calculations for payroll. The best part, according to Aliff, is that attendance tracking is simple now.
All their technicians need to do is to jibble-in using their mobile phones, and this time tracker works even when the signal drops! Useful especially for offsite staff. Aliff is now a happy manager because reporting becomes easier, too with quick timesheet export!
So far, Jibble has helped Aircon Hero save time on payroll processes by 35%, and increase their staff productivity by 55%. Their goal of saving time and simplifying their processes with organized data is now a reality!
"What isn't tracked doesn't get measured, and time is our most precious resource as a business. Jibble helps end our tracking problem so we get more precious time for other things that matter"

Sammad Nawaz, CEO of Aircon Hero
See All Case Studies